Start a career at MONEYME
Winner of Canstar's Innovation
Excellence Award 2022*
Winner of Canstar's Innovation Excellence Award 2022*
Looking for a career that blends your love for tech and finance?

MONEYME is a digital non-bank lender on a mission to challenge the banks. Our team of tech lovers are passionate about simplifying finance with fast and seamless credit products designed specifically for the digital world.

We're constantly pushing the boundaries to develop innovative customer experiences that meet the needs of modern consumers. And we're always looking for talented individuals who share our vision and can help us continue to drive our business forward.

Whether you're a developer, marketer, or customer service specialist, we offer a collaborative and supportive environment with plenty of opportunities for growth. Join us in building the future of finance.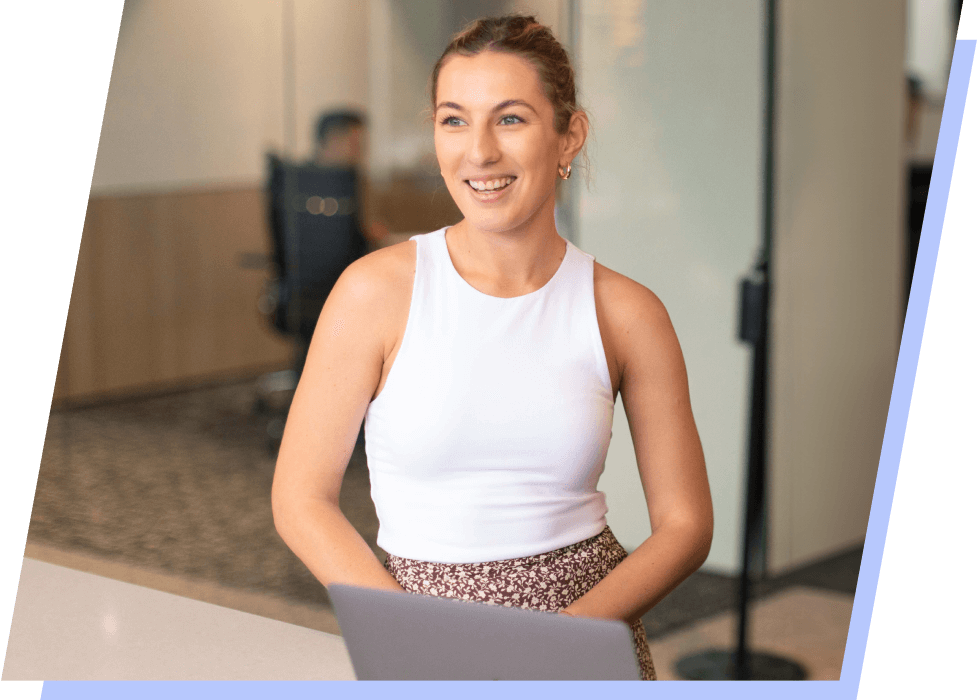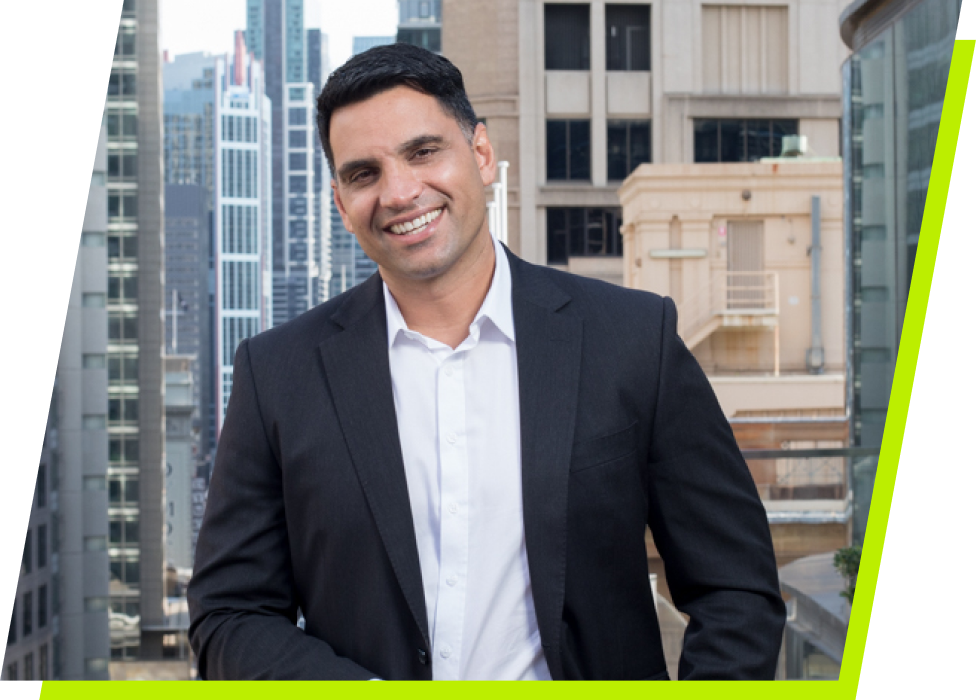 Our Story
In 2013, our CEO Clayton Howes had a vision to revolutionise personal lending, making access to credit faster, easier, and without the unnecessary paperwork. He founded MONEYME to offer tech-savvy consumers digital-first credit products – transforming the way they borrow money. When we discovered that our first customer to take out a loan from us was employed by one of the big four banks, we knew we were onto something special.

Since then, we have launched a range of innovative products, from personal loans and secured car loans to debt consolidation, a digital credit card, a real-estate deferred payment product, a credit score tool, and bank accounts. These products are available both directly to consumers and through our partnerships with brokers, agencies, and dealerships.

In December 2019, we listed on the Australian Securities Exchange and by 2021, we had lent over $1 billion. In 2022, our acquisition of SocietyOne put us on track to becoming the #1 challenger to the banks and we reached another milestone: $3 billion originated as a group.

Determined to keep pushing the boundaries of the financial services industry, we continue to find innovative solutions to help ambitious Australians achieve their goals.
Our mission
To be the #1 challenger to the banks
Our values
We challenge
We dare to
question, we aim
higher, and we fight
for better
We move fast
We exist to save you
time, we drive change,
and we move in the
same direction
We have heart
We are bold, we lead
with purpose, and we are
passionate about our
people and planet
A typical day at MONEYME
Kay, Product Owner

Since working at MoneyMe, I have grown so much as an individual - career wise and personally.

I work as the Product Success Manager where each day consists of continuously thinking of ways to develop our processes, optimise our systems, sharpen and develop product knowledge across the team and make sure that we always provide an amazing customer experience. My involvement is never limited to these aspects of the business because there is non-stop collaboration and innovation amongst all of the teams. We work, learn, face challenges, crush goals and celebrate together.

Our culture is like no other. I just migrated from overseas when I started, and MoneyMe has become my home. I've met my best and lifelong friends in this company and I can't be more grateful. I can easily say that the past 4 years of working here has been 4 of the best years of my life, and I am so excited for more to come.

Stefan, Multimedia Specialist - Senior UX/UI Designer

My typical day working at MONEYME is always exciting and never boring. We've got a bunch of hardworking people with creative, game-changing ideas for new products or features and they ask me to bring their ideas to life with cool designs and engaging prototypes. It's fun collaborating with my colleagues as everyone's a master in their own domain plus they're also really cool people that you can have meaningful conversations (or exchange memes) with.

Raina, Partnership Operations Manager

For me, working at MONEYME means waking up excited every day to get in the office and create ways to make things happen. For the four years I've been a part of the team I've just about covered all things operations (or as we like to call Solutions). I started as a Payments Officer where I learnt the basics, giving me a great foundation for the years to come. I was nurtured by leaders of the business and throughout the years I was given opportunities to learn and grow to where I am today - leading the Partner and Broker Channel with an amazing team by my side. Each day is fast paced and different from the last so there's no such thing as a boring day at work. I get to collaborate with lots of teams within the business and am surrounded by colleagues that have now become family. It's an honour to be a part of a workplace where hard work never goes unnoticed, ambitions become a reality and innovation is never-ending. My work boundaries are limitless and I absolutely love it.
Of employees are proud to work for MONEYME (%)
Employees promoted internally in FY22 (%)
Female representation in the general workforce in FY22 (%)
Job growth rate in FY22 (%)
Employee engagement score in FY22 (%)
Kulture Klub
There are a lot of things that make our company awesome and one of those things is our Kulture Klub. Established to develop and maintain a strong, safe, engaging, and positive team culture, our fortnightly Kulture Klub meetings are chaired by our CEO and current members are made up of a mix of employees from across the business. Our goal is to create an environment that gets everyone excited to come to work, creates a sense of purpose, and supports personal and professional development.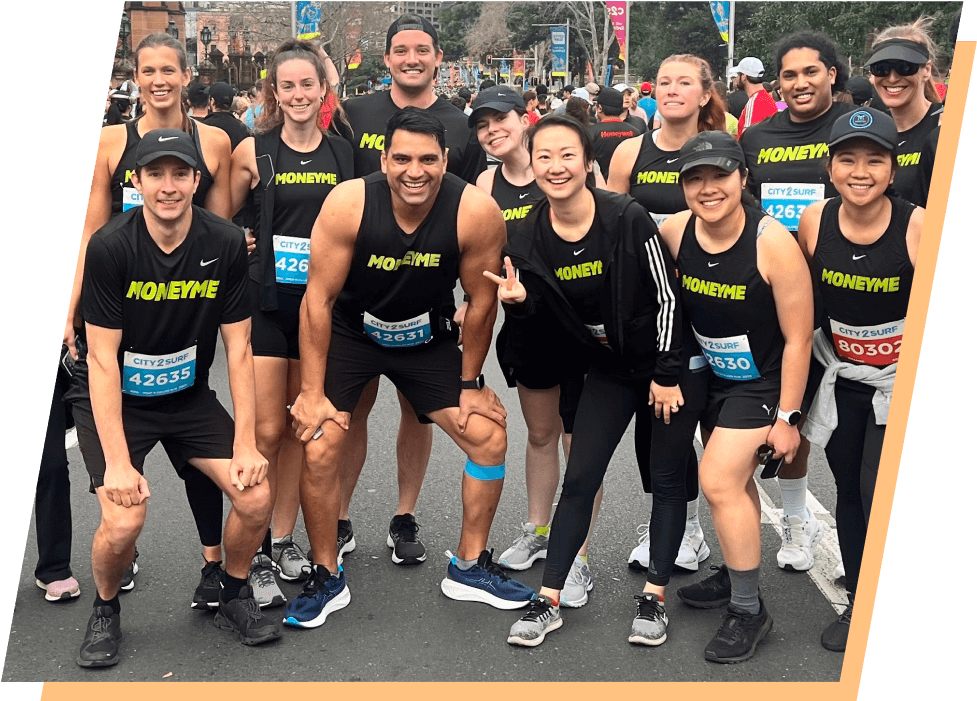 Some initiatives that the Kulture Klub implemented recently include:
Improving our Champions Awards program, which celebrates exceptional employees every quarter
Health and wellbeing programs, including the MONEYME Olympics and a 10,000 steps a day challenge
Engagement events such as Diversity Day which celebrates the different cultural heritages of our employees
Work perks we offer
Ping pong table
Arcade games
F45, SoulCycle, City2Surf, boot camp
3 days paid community service and volunteer leave
5 days paid of professional development training throughout the year
Sonos system/music playing in the office
Friday arvo drinks
Quarter champion awards & reward trip
Massages
Weekly groceries, Nespresso machine and fully stocked bar fridge
Up to 5 additional days of bonus leave per calendar year after 12 months of service for eligible employees.
12 weeks of employer-paid parental leave and two weeks employer-paid leave for secondary carer.
The best EOFY and Christmas parties! (think Byron Bay beaches, Hunter Valley wineries, glamping, Bondi Icebergs, ski trips)
Already working at MONEYME?
Let's recruit together and find your next colleague.